High-performance nozzles for open-type deluge, water walls, and water mist fire protection systems
Spray Nozzle Engineering is a leading supplier of spraying systems for fire protection. With its own products and as the Australasian partner of BETE Fog Nozzles; the company supplies from special hazard deluge to fixed fire suppression and pre-engineered vehicle systems, tunnels, offshore marine, under and above ground.
A complete range of patented pre-engineered fire nozzles with foil orifice system is also available for protection of both, fixed assets and mobile equipment.
BETE fire safety applications:
Tank cooling nozzles: Prevent tanks from absorbing the heat radiation from fire
Foam suppression nozzles: Nozzles that provide targeted and effective foam dispersal consistently
Deluge fire protection nozzles: Directly extinguishing flames in emergency settings and for cooling storage tanks/vessels
Water mist systems nozzles: Suppress fires in water sensitive areas
Marine fire suppression nozzles: Cooling platforms in offshore oil drilling rigs and spraying low-expansion foam on ship deck to subdue fires
Toxic gas mitigation nozzles: Removing water-soluble toxic gases from the air after leaks
Water wall systems: Shielding personnel and equipment from radiant heat, harmful gases, and open flames
Check out the full range of fire protection systems below or contact our engineers for free advice.
Spray Nozzle Engineering offer the complete range of BETE nozzles for all fire protection applications.
BETE has a full range of fire fighting nozzles that are approved for fire protection, and come with approvals from some of the world's most recognised testing authorities including FM factory mutual, UL – Underwriters Laboratories, Lloyds Register, US coast guard and more.
BETE fog nozzle offer every nozzle type, spray pattern and material of construction for a variety of fire fighting nozzle applications. With BETE's own in-house nozzle technology centre, they can help select the correct nozzle for the application based on droplet, size, spray coverage and distribution, as well as spray drift ad spray density.
BETE can supply fire protection nozzles for every application and were the inventors of both, the spiral nozzle renowned for its low drift and low blockage characteristics; and the impingement misting nozzle.
Your best friend in fire hose technology
Reel Tech technology, partner of Spray nozzle Engineering, has served Australian and international fire protection services in all industries for over 30 years, creating cost-effective, compact, customised, and safety-compliant hose and cable reel solutions. Their range includes Hannay tried and trusted Fire and Rescue reel series and their own world patented, Australian designed and manufactured FireDog™ fire protection reels.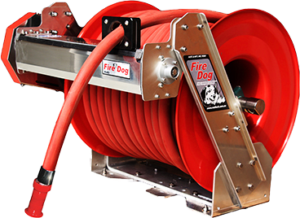 The FireDog™ is a new innovation in direct-drive safety hose reels, designed for reduced risk of injury and fatigue during operation. It features an Integrated Mechanical ClutchPat. Pend. that minimises hose drag, freewheel mode for easy payout, emergency override mode for the manual crank, and Unique Action Brake Pat. Pend. manual braking mechanism. It comes in ultra-narrow to ultra-wide widths to fit different space requirements and optional lightweight aluminium construction.
Reel Tech's engineering team has also patented the Flat Winder™ level-wind system, a world-first in the hose and cable layering. This advanced technology aids easy payout requires less personnel for hose storage duties and delivers more reliable and consistent layering. Flat Winder™ is the ideal choice to combine with the robustness of a FireDog™ or Hannay Fire and Rescue reel for the perfect hose reel system solution.
Equipped with a quick change hub, heavy-duty modular form, low-cost motor, safer rewind speed and optional remote control operation, the unequalled FireDog™ is at the forefront of fire-fighting hose reel technology. Where quick response times are critical, FireDog™ is your best friend.
Patented Vehicle Fire Suppression Nozzles
The BM Foil nozzles produce a uniform distribution of small to medium-sized droplets, in both standard and wide-angle, solid cone spray patterns. Incorporating Blow-Off Cap technology, and patented Rolled Lip core retention, industry approvals include Lloyd's Register and Factory Mutual certifications.
The BM Foil nozzles incorporate a patented foil cover orifice protection system, designed to burst when required and fully dislodge to ensure consistent spray distribution and fire suppression performance. The positive foil dislodgement technology protects the nozzle orifice in the most arduous environments prior to deployment. Therefore, the BM-Foil series is a great choice for vehicle engine bay foam fire protection in mining, farming, forestry and applications where nozzle orifices require protection.
The BM Foil is suitable for high heat and dust susceptible environments as it does not contain O-rings or rubber or silicone seals, thus avoiding degradation and adhesion problems that can occur with these components. For added protection, a dust cap and lanyard are available to fit the BM Foil nozzles.
The BM Foil nozzles are available in many spray angles, flow rates, and thread sizes for male and female connection (BSP & NPT). Manufactured to batch numbering standards, and available in brass, stainless steel or combined material construction, the BM Foil range is fully customisable for your application requirements.
Fire protection nozzles enquire